Explore a selection of books, journal articles, op-eds and essays. Please visit the CV page for a complete list of work.
BOOKS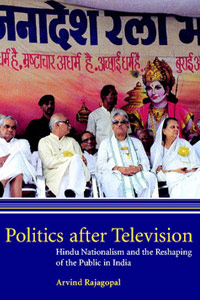 POLITICS AFTER TELEVISION: HINDU NATIONALISM AND THE RESHAPING OF THE PUBLIC IN INDIA
In January 1987, the Indian state-run television began broadcasting a Hindu epic in serial form, the Ramayan, to nationwide audiences, violating a decades-old taboo on religious partisanship. What resulted was the largest political campaign in post-independence times, around the symbol of Lord Ram, led by Hindu nationalists. The complexion of Indian politics was irrevocably changed thereafter. In this book, Rajagopal analyses this extraordinary series of events. While audiences may have thought they were harking back to an epic golden age, Hindu nationalist leaders were embracing the prospects of neoliberalism and globalisation. Television was the device that hinged these movements together, symbolising the new possibilities of politics, at once more inclusive and authoritarian. Simultaneously, this study examines how the larger historical context was woven into and changed the character of Hindu nationalism.
Cambridge University Press, 2001
Modern Asian Studies Review >
Learn more >

---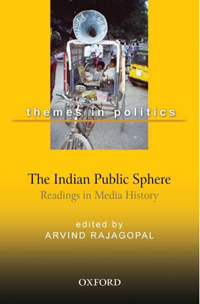 ED. THE INDIAN PUBLIC SPHERE: READINGS IN MEDIA HISTORY
The collection examines the role of the media in India's history and development, bringing together a collection of essays on its interplay with politics, society and culture. It surveys the range of communication media in India and shows how their regulation and use has developed from the pre-independence period to the end of the twentieth century. This innovative and critical selection of essays has been organized thematically; the discussion moves from the public sphere in colonial times to the development era, the rise of the vernacular media, the impact of television and the emergence of newer forms of media like the Internet in the 1990s. The readings cover a range of disciplines, from history to political science and anthropology, and have been written by experts in the field. The reader will be of interest to students and scholars of Indian politics and governance, media and culture studies, sociology as well as the informed lay reader.
Oxford University Press, 2009
Learn more >
---
ADVERTISING IN INDIA: GENEALOGIES OF THE CONSUMER-SUBJECT
Is modernity new to India, involving the transformation only in recent decades of an apparently timeless traditional society through global networks of banking and industry, migration and information, and trade and technology? Or have different groups on the Indian subcontinent variously participated in processes of modernity over a much longer time period? How is modernity itself to be understood and what forms have its expressions taken?

Modern Makeovers explores the depths and surfaces which are constitutive of modernity and its representations. It sheds light on the historical aspects of modernity during colonial times. The volume also examines the conditions, limitations, and possibilities of modernity-and the modern-in contemporary contexts, including politics, culture, and the arts. The handbook approaches formations of modernity as always particular yet already global, all the while drawing on a range of South Asian experiences. The contributors map prior routes and chart novel pathways in discussions of modernity in the different regions of the subcontinent. They attend to prior, inherited understandings of modernity that are based on pre-figured, modular projections of the traditional and the modern, the non-West and the West.

Ed. Saurabh Dube and Ishita Banerjee-Dube. New Delhi: Oxford University Press
---
JOURNAL ARTICLES

Read a selection of journal articles. Please visit the CV page for a complete list of work.

Early Publicity in India: Trademark, Branding and Advertisement.

pdf>
"Two Tyrants in the Age of Television." Economic and Political Weekly, Feb 22, 2014. pdf >
"On the Aesthetics and Ideology of the Indian Documentary Film: A Conversation" (with Paromita Vohra), Bioscope: South Asian Screen Studies, vol. 3, no. 1, 2012, pp. 7-20. pdf >
"Visibility as a Trap in the Anna Hazare Campaign," Economic and Political Weekly, Nov 19, 2011, pp. 19-21.
"Urban Segregation and the Special Political Zone in Ahmedabad: An Emerging Paradigm for Religio-Political Violence," South Asian Multidisciplinary Academic Journal (SAMAJ), Special Issue on Rethinking Urban Democracy in South Asia, No. 5, 2011. Ecole des Hautes Etudes en Sciences Sociale, Paris (10,235 words). pdf >
"Thinking Through Violence: A Discussion with Banu Bargu, Drucilla Cornell, Allen Feldman, and Mary Louise Pratt," edited by Elena Bellina, J. Martin Daughtry, Crystal Parikh and Arvind Rajagopal, Social Text online, Spring 2011 (9,100 words).
"Introduction" and "Afterword," to "Thinking Through Violence," Social Text online, Spring 2011 (1900 words).
"Television in India: Ideas, Institutions and Practices," (13,232 words). Invited submission for Sage Handbook on Television Studies ed. Toby Miller. Forthcoming.
"Notes on Postcolonial Visual Culture, in Bioscope: South Asian Screen Studies" (Routledge) v. 2, n. 1, 2011, pp. 11-22. pdf >
"The Emergency as Pre-History of the New Indian Middle Class," Modern Asian Studies 2011, v 45, n 5, pp. 1003-1049. pdf >
"Advertising in India: Genealogies of the Consumer-Subject," in Modern Makeovers: A Handbook of Modernity in South Asia ed. Saurabh Dube and Ishita Banerjee-Dube. New Delhi: Oxford University Press.
"La publicidad en India: genealogies del individuo consumidor," in Otras Modernidades: historias, culturas, identidades, eds. Saurabh Dube and Ishita Banerjee. Mexico: El Colegio de Mexico, 2011, pp. 307-324.
"Special Political Zone: Urban Planning, Spatial Segregation and the Infrastructure of Violence in Ahmedabad," South Asian History and Culture, 1: 4, 529- 556 pdf >
"Wrecked Cityscapes and Aesthetic Improvement: Discreet Charms of a Globalizing Metropolis. Tales from Mumbai." Forthcoming in Wendy Doniger and Martha Nussbaum eds. India: Implementing Pluralism and Democracy, Oxford University Press.
(2009). "Violence, publicity and sovereignty: lawlessness in Mumbai," Social Identities v. 15, n. 3, May, pp. 411-416.
(2008). "Beyond Media Therapy," Television and New Media, vol. 24, no. 6, pp. 4-8.
(2008). "Afterword: Fast-Forward into the Future, Haunted by the Past. Bollywood Today." In Global Bollywood, eds. Anandam P. Kavoori and Aswin Punathambekar, NYU Press, pp. 300-306.
"The Gujarat Experiment and Hindu National Realism: Lessons for Secularism," in Anuradha Needham and Rajeswari Sunder Rajan eds. The Crisis of Secularism in India. Durham, NC: Duke University Press, 2007, pp. 208-224. pdf >
(2006). "An American Theory of the Public Sphere," in Sociological Forum, vol. 21, no. 1, March, pp. 147-157. Review essay on Paul Starr, The Creation of the Media.
(2006). "Hinduism and Media." In Encyclopaedia on Religion and Media. Great Barrington, MA: Berkshire Publishing, pp. 255-261.
(2006). "Art For Whose Sake? The Ambivalent Career of Artistic Citizenship ina Country Like India," in Artistic Citizenship ed. Randy Martin and Mary Schmidt Campbell. New York: Routledge, pp. 137-150.
(2005). "Imperceptible Perceptions in Our Technological Modernity." In Old Media, New Media eds. Wendy Chun and Thomas Keenan. New York: Routledge, 275-285.
(2005). "A Nation and its Immigration: the U.S. After September 11," in Media and Cultural Theory ed. David Morley, London and New York: Routledge, 71-86.
(2004) "Comparative Studies in Culture and Media in South Asia: Review Essay." In Anthropological Quarterly, v. 77., n. 3, Fall. Pages16-33.
(2004). "Hindu Diaspora in the United States." Encyclopaedia of Diasporas. Ed. Melvin Ember, Carol Ember and Ian Skoggard. New York: Kluwer Academic/Plenum Publishers, 445-454.
(2004). "The Menace of Hawkers: Property Forms and the Politics of Market Liberalization in Mumbai." In Caroline Humphrey and Katherine Verdery eds. Changing Property Regimes in Eastern Europe. Wenner Gren Foundation and Bergen Press, London, U.K. pp. 227-250.
(2004). "Introduction: America and Its Others." Interventions: International Journal of Postcolonial Studies. Vol. 6, no. 3. Pages 317-330.
(2002). "Anand Patwardhan, Film-maker," Critical Asian Studies, v. 34, no. 2, pp. 161-165.
(2002). "Living in a Time of Emergency," Television and New Media, Spring 2002, pp. 44-47.
(2001). "The new 'new war'and an old problem," Economic and Political Weekly, vol.36, no. 42, Oct 20, pp. 1458-9.
(2001). "Technologies of Perception and the Cultures of Globalization." Introductory Essay. Social Text no. 68, v. 19, No. 3, Fall, pp. 1-8.
"The Violence of Commodity Aesthetics: Hawkers, Demolition Raids, and a New Regime of Consumption," Social Text no. 68, v. 19, No. 3, Fall 2001, pp. 91-113. Rpt. Economic and Political Weekly, January 12, 2002. pdf >
(1999). "Hindu Nationalism in the U.S.: Changing Configurations of Political Practice," Ethnic and Racial Studies. Pp. 178-201.
(1999). "Thinking through emerging markets: brand logics and the cultural forms of political society in India," Social Text 60, Fall, pp. 131-149.
(1999) "Thinking About The New Indian Middle Class: gender, advertising and politics in an age of globalization," in Rajeswari Sunder Rajan ed. Signposts: Gender Issues in Post-Independence India. New Delhi: Kali for Women Press, pp. 57-100.
(1999). "Communities Imagined and Unimagined: Contemporary Indian Variations on the Public Sphere." Discourse: Journal for the Theoretical Study of Media and Culture. Vol. 21, No. 2. pp. 48-84.
(1999) "Celebrity and the Politics of Charity: Memories of a Missionary Departed," in Mourning Diana eds. Adrian Kear and Deborah Steinberg. London and New York: Routledge.
"Advertising, Politics and the Sentimental Education of the Indian Consumer," Visual Anthropology Review, vol. 14 no. 2, 1998-99, pp. 14-31. pdf >
(1997). "Hindu Immigrants in the U.S.: Imagining Different Communities?" Bulletin of Concerned Asian Scholars, (Oakland, Calif.), pp. 51-65.
(1996). "Expatriate Nationalism: Disjunctive Discourses" in In Quest of a Secular Symbol: Ayodhya & After ed. Rajeswari Ghose. Indian Ocean Centre for Peace, Perth, Australia, pp. 109-139.
(1996). "Mediating Modernity: Theorizing Reception in a Non-Western Society." Communication Review, Vol. 1, No. 4, pp. 441-469.
(1996). "Communalism and the Consuming Subject." in Economic and Political Weekly. Vol. 31, No. 6, pp. 341-348.
(1994). "Ramjanmabhumi, Consumer Identity and Image-based Politics," in Economic and Political Weekly, vol. 29, no. 27, pp. 1659-1668.
(1994). "Postcolonial Improvisations on Orientalism: A Hindu Epic Goes Prime Time" in Institute on Culture and Consciousness Occasional Papers I. Eds. Suzanne Rudolph, Leela Fernandes and Andrew Rotman., University of Chicago, pp. 112-134.
(1993). "The Rise of National Programming: The Case of Indian Television", in Media, Culture, & Society vol. 15, no. 1, pp. 91-111.
(1987). "And the Poor Get Gassed: State and Multinational-Aided Development in Bhopal", in Berkeley Journal of Sociology, vol. XXXII, pp. 129-153.
---
OP-EDS & ESSAYS

Read a selection of Op-Eds and Essays. Please visit the CV page for a complete list of work.
"Don't give up on Prasar Bharati," Indian Express, August 2, 2014. read >
"A command economy of opinion." Indian Express, May 15, 2014. pdf >
"Two Tyrants in the Age of Television." Economic and Political Weekly, February 2014. pdf >
"Talcott Parsons's favorite student: An interview with Robert N. Bellah", Public Culture, Winter 2014 pdf >
"This is why this kolaveri di. Himal" South Asian. February 6, 2012.
"Wanted: a Communications Policy." Op-ed in The Hindu: India's National Daily. Jan 24, 2012.
"Visibility as a Trap in the Anna Hazare Campaign." Economic and Political Weekly, Nov 18, 2011.
"Am I Still Anna When Nobody is Watching?" Op-ed in The Hindu: India's National Daily. Sept 7, 2011.
On Tariq Ramadan. Posted in "Off the Cuff," Social Science Research Council website discussion on religion, "Immanent Frame," July 19, 2009. read >
"Violence, Publicity and Sovereignty." On the 11/26 attacks in Mumbai. Social Science Research Council website, "Immanent Frame," Dec 15, 2008. read >
"Kumaari," In Media Res, February 2007. read >
"What is the Future of Entertainment?," India Today 30th Anniversary Issue, December 18, 2006. read >
"The Poor Are Only Peeping Toms. Consumption and Urban India." Article in Infochange News and Features, February 2005. read >
"Our Enduring Fascination with Veer Savarkar." Man's World (Mumbai). Vol. 5 no. 8, October, 2004. Pages 62-63. [Original title: "Immersion Time for Vinayak"]
"The Hindutva Continuum." Cover Story, Communalism Combat. Mumbai. August, Issue No. 100. (2004)
"What if the Ramayan Had Not Been Aired on Doordarshan?" Outlook (New Delhi). Special Independence Day Issue, August 15, 2004. Page 45.
"India Shining: A View From Abroad?" The Hindu: India's National Daily. April 11, 2004.
"Non-Resident Nationalism." Frontline: India's National Magazine. March 26, 2004, pp. 127-129.
"An Evening at Gandhi's Ashram." The Hindu: India's National Daily. March 14, 2004. read >
"The BJP Publicity Effect." Leader article. The Hindu. March 10, 2004. read >
"The Sangh's Role in the Emergency." Economic and Political Weekly. Vol. 38, no, 27, July 5, 2003. read >
"The Emergency and the Sangh." The Hindu: India's National Daily. June 13, 2003. Leader article. read >
Translated in Dalit Murasu (Tamil), June 25, 2003; Loksatta (Marathi), June 28.
"Gujarat's 'Successful Experiment'." www.opendemocracy.net. March 20, 2003. read >
"A New Twist in the Gujarat Conspiracy." South Asia Citizens Wire. February 15, 2003. read >
"The New 'New War' and an Old 'Hot Spot.'" www.opendemocracy.net. Sept 27, 2001.
"Real and Imagined Enemies." www.opendemocracy.net, Sept 14, 2001. read >
"Visualizing Politics." Essay in Special Independence Day Issue "What is an Indian?" Outlook, New Delhi, August 20, 2001, p. 68. pdf >